Since the pandemic outbreak first brought the concept of online iGaming to the attention of locals, the Asian gaming industry has grown at a rapid pace. This resulted from measures taken to limit socializing and leisure activities, as well as access to land-based casinos. As a result, there was a surge in interest in online entertainment, which aided iGaming's growth. Millions of people began using online casinos and gambling sites to pass the time and interact with others.
Research conducted by e-Conomy estimated that by 2020, as many as 40 million people in Singapore, Malaysia, Vietnam, Indonesia, the Philippines, and Thailand had already engaged in iGaming. As a result, the region now has over 400 million internet users, which is expected to grow.
Before venturing into the Asian iGaming market, operators ought to know the difficulties they might experience. Uplatfrom, a company with experience maneuvering the challenges and intricacies associated with this market, has contributed the following enlightening recommendations, which you'll find below.
Localization
As in other regions, success in Asia requires a structured approach tailored to each nation's distinct cultural norms and legislative preferences. Knowing your customer (KYC) and offering players personalized content is essential for attracting and retaining users on your website. Localization success depends on a wide range of factors, including choice of content and providers, sports, leagues, languages, offering views, and odds formats.
When it comes to online casino games, the Chinese prefer mahjong, while the Japanese prefer pachinko. The most popular games among players are live casino games with local live dealers, baccarat, sic-bo, lotteries, roulette, slot machines, and skill-based games with extremely popular activities like fishing and hunting. Lotteries, roulette, and slot machines are other popular live casino games.
In terms of sports betting, cricket is remarkably popular in India, and it is important to provide wagering options on local matches for bettors who wish to wager on matches from both lower-tier leagues and world-class tournaments so as to meet individual demand. Basketball, the Ultimate Fighting Championship, badminton, Muay Thai, and football are also popular in the region. As a result of these inquiries, Uplatform has introduced the most extensive sportsbook in the Asia-Pacific region, covering 200+ sports as well as all major Asian championships and leagues, both professional and amateur (like the Philippine Collegiate Champions League). Over 1.5 million global pre-match and live events are covered, as well as odds formats such as Hong Kong, Indonesian, and Malay, as well as an Asian view of the site and an Asian handicap.
The target language is critical to effective localization. The languages spoken around the world are extremely diverse. The majority of the population in some countries does not speak English and instead speaks one of several minority languages. Operators must therefore cater to local demands by making their sites available in a variety of languages spoken by their players. Uplatform is delighted to provide localization in over sixty-five languages, such as Bengali, Chinese, Hindi, Hong Kong Cantonese, Bahasa Indonesian, Japanese, Korean, Vietnamese, and Thai.
Popularity of Esports
Asia is the largest contributor to global Esports revenue by 54%.
Asian Esports is a growing industry, so authorities in the region are exploring how businesses can give bettors more ways to participate in preferred games. Bettors in the area are usually younger, have more disposable income, and are more likely to spend it on Esports-related experiences. The region's young bettors (18-25 years old) will likely become the industry's future leaders. Around 64% of Esports bettors only bet on Esports, while another 74% want to bet on multiple Esports titles.
Spectators in Asia want interactive, tailored Esports events. The next step is for operators to work with regulators to provide safe, regulated channels for Esports fans and bettors to enjoy everything from free-to-play games to fantasy leagues to betting.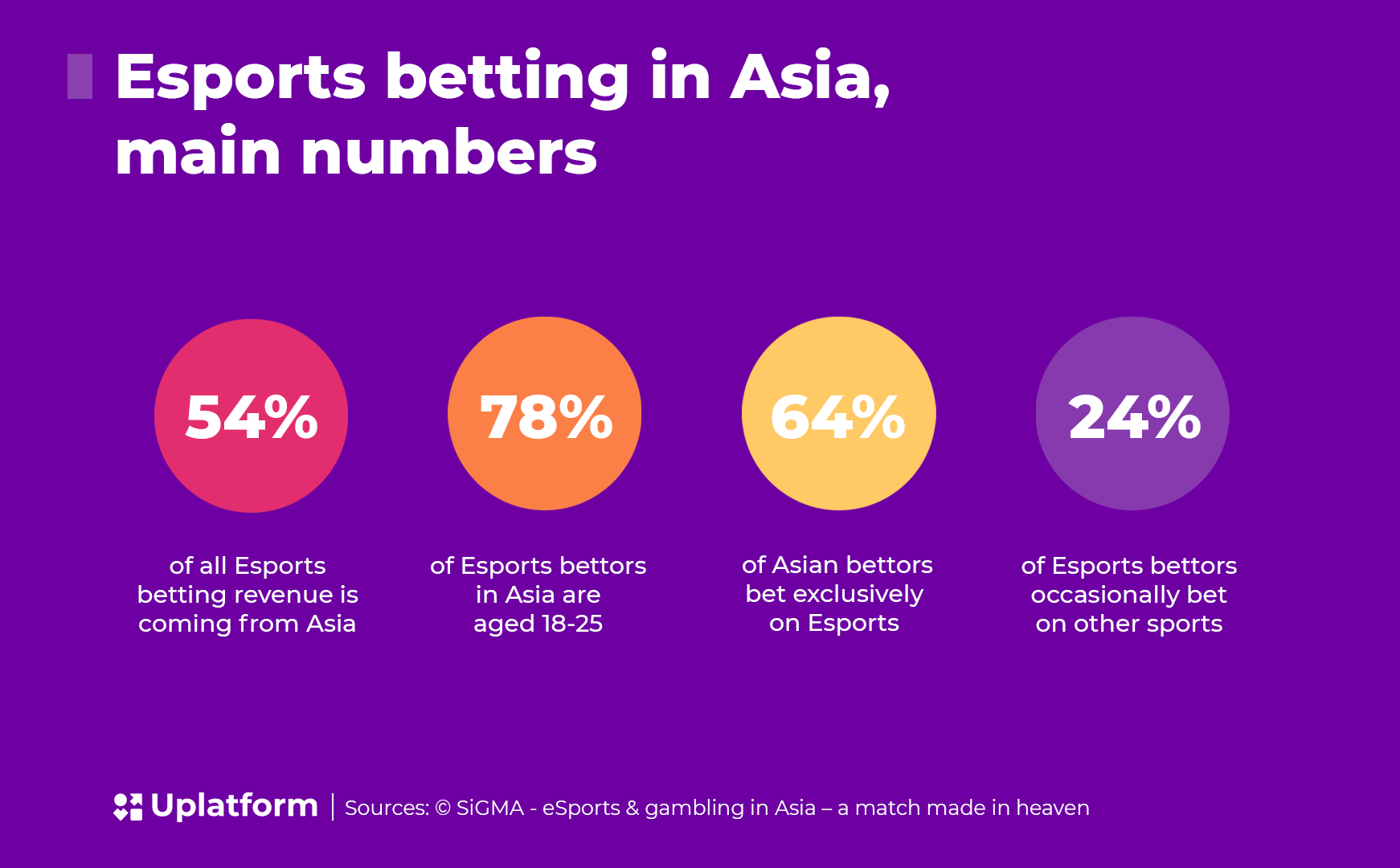 The Asian region continues to be a hotspot for Esports and cyber sports tournaments. Uplatform recognizes this drift and provides an ideal environment for operators to excel.
Largest selection of Esports games, including popular wagers on Call of Duty, Dota 2, Counter-Strike: Global Offensive and Valorant, Warcraft III, League of Legends, PlayerUnknown's Battlegrounds (PUBG), and Rocket League.
Unique wagers on competitions like the Rocket League Oceania & AORUS South Asia Cup; cyber sports such as football, hockey, cricket, and golf; bets on the performance of a single player; and many more.
Uplatform provides a random match live betting option for 60+ Esports games
Local payments
Provide full localized support, including a full suite of payment options, for all of your Asian markets.
Uplatform offers a variety of local payment methods in Asia, such as bank transfers, QR payments, eWallets, mobile payments, and more. UPI, BHIM UPI, IMPS, Paytm, PhonePe, Promtpay, GCash, OVO, Momo, and many other payment methods are all available. Uplatform is the go-to platform for payment integration at any stage.
To accommodate Asian players, they provide an agent scheme that includes: efficient software with multiple language functionality and multilevel agent structures, comprehensive reporting of agent and player actions, including the ability to place bets for other players and generate betting slips.
Multi-device
In terms of preferred devices, the Asian market favors classic desktop computers. Things, however, are beginning to change. Mobile betting apps are gaining popularity as smartphones become more widely available and cheaper. Due to the growing number of mobile users, operators have the motivation to offer a wider variety of mobile features, such as apps and progressive apps. The widespread adoption of smartphones and the subsequent spread of betting apps will likely result in a substantial revenue increase over the next five years. The increase can be attributed to a number of factors, including the rise of digital mobile users, the COVID-19 pandemic and its aftermath, and the increased availability of smartphones and the internet. This, combined with the demands of a younger demographic for digital and on-demand entertainment, has greatly advanced the industry.
Marketing
A successful marketing strategy is essential if you are expanding into new regions. A culturally sensitive, relevant, and appropriate advertisement is vital to attracting and retaining players—the Asian region benefits from using affiliate networks. Without an affiliate network with local connections on-site while looking for players, it will be hard to drive traffic and reach players in any targeted region. It will also be challenging to advertise effectively online and offline to achieve outstanding results.
Regulations
The Asian market has a lot of money to be made, which is why it attracts entrepreneurs, but it is not an easy market to break into. Most regions have strict gambling and betting laws that allow only a few businesses to provide these services. Nonetheless, there is a movement toward full legalization.
Although gambling has long been illegal in those countries, gambling syndicates that provide no player protection or transparency have opened up many underground markets. In an effort to counteract this trend and capitalize on new forms of entertainment popular among locals, some countries are shifting their approach, gradually legalizing gambling, beginning with land-based operations.
Summary
Asia is one of the world's most promising regions for online gambling. It is also incredibly complex, with new features and offers frequently introduced to provide players with more appealing betting options.
Uplatform recognizes Asia as a promising growth market, so it has designed an extensive sportsbook aimed explicitly at the Asian consumer. And to help operators stay ahead of the competition, it has increased the scope of its market-driven solutions.